When we lose someone we love it leaves a hole in our hearts that can never be filled. So does it leave a hole in your work force when you lose an employee/co-worker too early in their life.
Gale Oldre started working in the Enercept Drafting Department on November 29, 1983. Gale continued with Enercept until July of this year, when he suddenly passed away.
Along with today being Gale's work anniversary date at Enercept, it would have also been his 65th birthday.
So, in honor of Gale, many of us from Enercept enjoyed lunch today with his widow and their son. Of the 18 in-house office employees we have, all but three were present (unfortunately, they had other obligations and were unable to join us); there were even a couple of guys from our production team there. It was a wonderful, but bittersweet, get together filled with laughter, tears and many memories.
People talk about the "dash" that is your life; the line of time between the day you were born and the day you die. I'm glad that Gale spent half of his "dash" working at Enercept.
During this time of thankfulness and celebration it is good and right to remember those who will be missing from the table (or the desk) this holiday season.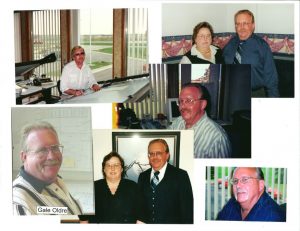 I hope you all had a Happy Thanksgiving and will enjoy a Wonderful & Blessed Holiday Season!
Roberta